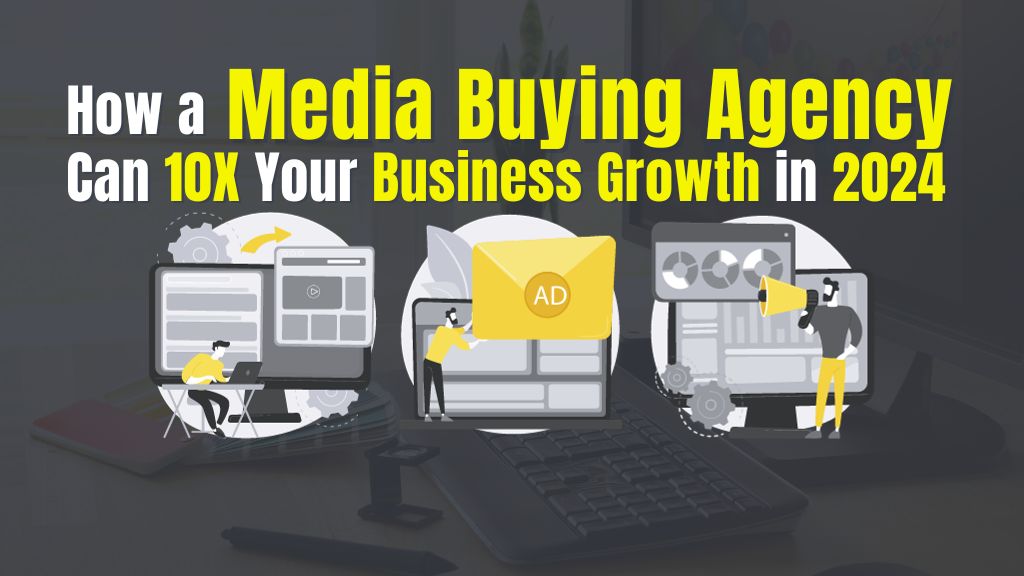 What is a Media Buying Agency?
A media buying agency is a company that specialises in purchasing ad space on behalf of clients. Unlike traditional full-service advertising agencies, media buying agencies focus solely on the media planning, buying, and optimisation process.
Media buying agencies work with publishers, ad networks, and other media owners to negotiate and purchase ad inventory that aligns with a client's target audience, campaign goals, and budget. They take care of all the nuts and bolts of media planning and buying, from identifying ideal media channels and placements to executing and optimising ad buys.
The core services provided by media buying agencies typically include:
– Media Planning – Conducting research and analysis to determine the best media mix and placement strategy to achieve campaign goals and maximise ROI. This includes analysing target audience demographics and media consumption habits.
– Media Buying – Negotiating with media vendors to purchase ad inventory at optimum rates. Media buying agencies leverage their relationships and buying power to secure the best placements and costs.
– Campaign Management – Overseeing the launch, monitoring, optimisation and reporting of media campaigns from start to finish. This includes tracking KPIs and adjusting campaigns as needed to improve results.
– Audience Targeting – Identifying specific audience segments that offer the highest potential value for reaching campaign goals. This may involve not just demographics but also psychographics, interests, behaviours and more.
– Performance Analytics – Providing in-depth analysis and reporting on campaign results and return on ad spend. Media buying agencies use data and analytics to refine strategies for optimal outcomes.
By handling the complexities of media planning and buying, media agencies allow clients to focus on other aspects of their business and campaigns. Their expertise and clout can help small businesses maximise their ad budgets for stronger results.
Benefits of Working with a Media Buying Agency
Working with a media buying agency provides several key benefits for small and medium businesses looking to maximise their ad spend and get the most out of their marketing budget. Here are some of the top reasons to consider hiring a media buying agency:
Access to Media Buying Expertise
A dedicated media buying agency has the experience, insider knowledge, and buying power to secure the best ad rates and placements for your campaigns. They specialise in understanding the complex world of media buying and know how to effectively negotiate costs, analyse data, and strategically purchase ad space to reach your target audience. This expertise is difficult for small marketing teams to develop in-house.
Cost Savings from Reduced Ad Rates
The connections, negotiating skills, and buying power of media agencies allow them to get reduced ad rates that you likely can't access on your own. This results in significant cost savings and allows you to get more value out of your marketing budget. Agencies buy in bulk and can secure spots at lower costs.
Increased Reach and Improved ROI
With their expertise in tracking analytics and optimising based on performance data, media buying agencies are skilled at helping companies reach a larger portion of their target audience. This wider reach leads to increased brand awareness and conversions. It enables you to gain better returns on your marketing investments.
By leveraging the benefits of working with a dedicated media buying agency, small and medium businesses can punch above their weight, competing with larger companies in their advertising efforts and customer acquisition. The right media buying partner helps maximise reach while keeping your ad spend cost-efficient.
Types of Media Buying Agencies
There are two main types of media buying agencies – full service agencies and specialty/niche agencies.
Full Service vs Specialty Agencies
– Full service agencies offer a wide range of services including media planning, buying, creative, PR, market research and more. They have teams dedicated to different disciplines and work with clients on overall marketing and advertising strategies across platforms.
– Specialty or niche agencies focus on specific media types or functions. For example, they may specialise in programmatic advertising, paid search, social media marketing, OOH media buying, and so on. These agencies have deep expertise in their niche and work with clients just on those specific strategies.
Some benefits of specialty agencies are greater category expertise, ability to execute complex strategies in their niche, and competitive pricing. The tradeoff is that you need to manage and coordinate efforts across different specialty providers.
Digital vs Traditional Media Focus
Media agencies also tend to focus on either digital media buying or traditional media platforms.
– Digital focused agencies have expertise in online ads, social media, search marketing, and other digital formats. This allows them to plan and buy digital media campaigns and optimise them through data and analytics.
– Traditional media focused agencies specialise in media like television, radio, print, and out-of-home. They have long-standing relationships with media vendors, understand negotiating for placements and inventory, and bring creativity into traditional ad planning.
Of course, many full service agencies today offer both digital and traditional media planning and buying.
Examples of Specialty Agencies
Some examples of specialty media agencies include:
– Paid search agencies
– Social media marketing agencies
– Programmatic ad buying agencies
– Native advertising focused agencies
– OOH media specialists
– Experiential agencies
– Multicultural marketing agencies
So in summary, there are various types of media buying agencies catering to different needs. Brands should look for agencies that match their specific requirements whether that is digital-first media buying, high impact traditional media, or deep specialisation in a channel.
Media Buying Agency Services
Media buying agencies offer a range of services to help businesses advertise and promote their products and services. Here are some of the key services provided:
Media Planning
Media planning involves determining the best media platforms, channels and inventory to reach a target audience. The media buying agency will work with the business to understand campaign goals, target demographics, budgets and more. Then they will put together a comprehensive media plan outlining the ideal media mix. This includes determining the split between platforms like TV, radio, print, online, out-of-home and more. It also involves selecting specific channels, programs, sites, publications, events and so on. The plan is designed to achieve campaign KPIs like reach, frequency, engagement and conversions within budget.
Media Buying
Once the media plan is approved, the media agency handles the media buying process. This involves negotiating and purchasing ad inventory that aligns with the media plan. They leverage relationships and purchasing power to secure the best placements and rates possible. The media gets booked across the different platforms, channels and providers.
Campaign Management
The agency manages the rollout and optimisation of the media campaign. They oversee trafficking of ads, implement any mid-campaign changes needed and provide ongoing performance updates. Day-to-day campaign management ensures ads run properly and helps identify opportunities to refine the approach.
Performance Reporting & Optimisation
Comprehensive reporting provides insights into campaign effectiveness. This includes reach, engagement metrics, conversions and ROI. The agency provides regular performance updates and reporting. They use the insights to continuously optimise the campaign strategy and media plan to improve results. Data-driven optimisation is crucial for maximising campaign impact.
So in summary, media buying agencies handle everything from strategic planning to daily management and optimisation of media campaigns. Their expertise and buying power make media advertising more efficient and effective for businesses.
How Media Buying Agencies Operate
Media buying agencies typically follow a structured process when working with clients:
Client Onboarding
Once a client engages the services of a media buying agency, the first step is onboarding. This involves learning about the client's business, target audience, competitors, marketing objectives, budgets, and existing marketing activities.
The agency will want to review the client's website, products/services, brand messaging and other marketing materials. This helps them gain a deep understanding of the client and their needs.
There may be a kickoff meeting to align on goals, strategies and expectations. The agency may also request access to the client's Google Analytics, social media accounts and other relevant platforms.
Campaign Planning
With a solid understanding of the client's business and goals, the media buying agency moves into campaign planning.
This involves determining the best media mix and channels to reach the target audience. The agency will consider factors like demographics, behaviours, geographic location and media consumption habits.
Campaign plans outline the ad formats, placements, budgets and measurement KPIs. Timelines for launch, testing and optimisation are established. The agency will determine bidding strategies for paid search and social campaigns.
Campaigns are designed to align with the client's overall marketing strategy. All details are presented to the client and iterated on until a final plan is approved.
Media Buying and Optimisation
Once the campaign launches, the media buying agency closely monitors performance. They analyse metrics and data to identify opportunities for optimisation.
The agency makes ongoing tweaks to improve results, such as adjusting bids, ad copy, landers, target audiences and more. They may pause underperforming placements and add new opportunities.
Regular reporting provides the client with campaign updates and insights. The agency provides strategic recommendations to help achieve the client's KPIs throughout the campaign lifecycle.
Ongoing optimisation ensures the media buying continues to drive ROI as the agency learns what resonates best with the target audience. They refine and improve the campaign over time.
What to Look for in a Media Buying Agency
When evaluating media buying agencies, there are a few key factors to consider:
Industry Experience
– Look for an agency with years of experience in your specific industry. They should understand your target audience, competitors, and the media landscape. An agency well-versed in your vertical will strategise more effectively.
– Ask about their experience with clients similar to your business – size, budget, goals, etc. Relevant case studies and client references are a must.
– Media is constantly changing. Ensure the agency stays on top of the latest trends, technologies, and best practices. Their strategies should be informed by up-to-date expertise.
Transparent Processes
– The agency should clearly explain their media buying process and pricing structure. There should be no hidden fees or markups.
– Ask to see sample plans, reports, and optimisations. Transparency builds trust.
– Make sure you have access to your media account data. The agency works for you, not the other way around.
Technology and Tools
– Media buying relies heavily on software and analytics. Ask which platforms, dashboards, and data sources they use.
– Look for expertise across traditional and digital media. Access to premium ad inventory and targeting technology is key.
– Their martech stack should provide detailed targeting, optimization, reporting, and automation capabilities. These tools amplify your ad performance.
Reporting and Analytics
– Ask how often you will receive performance reports and insights. Look for thorough, customised analytics.
– The agency should analyse and optimise campaigns in real-time, not just report post-flight. Ongoing optimisations raise ROI.
– Reports should track meaningful KPIs tailored to your goals – sales, registrations, engagement etc. – not just impressions and clicks.
– Expect clear, actionable recommendations based on data-driven insights. Analytics should inform strategy.
Questions to Ask Potential Media Buying Agencies
When evaluating potential media buying agencies, there are several key questions you'll want to ask to ensure it's the right fit for your business:
Experience With Your Industry and Locations
– How familiar are you with our industry? Do you have experience working with clients in our vertical?
– Are you knowledgeable about our target locations and regions? Do you have experience running campaigns focused on our geographic targets?
It's important that an agency understands your niche and has relevant experience marketing to your locations. This ensures they can develop campaigns optimised for your audience and goals.
Pricing Models
– What pricing models do you offer? Commission, flat fee, hybrid?
– Do you offer any minimum commitments or retainers? What does pricing depend on?
– How do you ensure there is transparency into campaign costs and your fees?
Understand how an agency bills for their services. Commission, flat fees, and hybrid models are common. You want to look for fair and transparent pricing.
Campaign Management and Optimisation Process
– How do you manage campaigns day-to-day? Who handles ongoing optimisation and changes?
– How frequently do you optimise based on performance? Do you make adjustments in real time?
– How will you communicate ongoing results and changes to me?
The agency should have dedicated teams managing campaigns daily and optimising frequently based on results. Ask how and how often they will update you on performance.
Reporting Frequency and Depth
– How often will I receive performance reports? Daily, weekly, monthly?
– What metrics and insights will be included in campaign reports?
– Can reports be customised to our business needs and KPIs?
– Do you guarantee viewability into campaign analytics and data?
Regular, detailed reporting is crucial for staying on top of campaign performance. Ensure the agency can provide reports tailored to your most important metrics and success indicators.
Asking the right questions upfront ensures the agency is well-suited to achieve your marketing goals and provide maximum value.
Costs of Hiring a Media Buying Agency
Hiring a media buying agency requires paying fees for their services, but the return on investment can make the expense worthwhile for many businesses. There are a few typical fee structures that media buying agencies use:
Commission – The most common fee structure is a commission based on a percentage of the ad spend. Commissions typically range from 10-20%, with 15% being a common rate. The agency earns larger fees as they are able to negotiate greater media buys for your campaigns.
Retainer – Some agencies charge a monthly retainer fee instead of or in addition to commissions. This provides them with steady income and allows for better account management. Retainer fees range from a few hundred pounds per month for small accounts to thousands for larger ad budgets.
Hybrid – A hybrid model combines a lower retainer fee with a reduced commission percentage. This helps limit risk for both the client and agency.
The exact pricing an agency charges will depend on the services they provide, the amount of ad spend they manage, account size and other factors. Established agencies with greater buying power and expertise may have higher fees. Additional services like campaign management or reporting often incur separate charges.
While agency fees do represent added costs, the potential return on investment usually justifies the expense. Their negotiating leverage and insider knowledge help slash media costs significantly. Expert campaign management also leads to higher performing ads and lower wasted ad spend. When done right, the extra revenue and sales generated far outweigh the agency fees.
Alternatives to Media Buying Agencies
Hiring In-house Media Buyers
One alternative to hiring a media buying agency is to bring media buying in-house by hiring dedicated media buyers as part of your marketing team. This allows you to build in-house expertise and have more control over your media buying. However, it requires finding and hiring people with the right skills, and providing them with ongoing training. You'll also need to invest in media buying tools and software. The costs of hiring in-house may be high initially but can pay off long-term for businesses with significant ongoing media buying needs.
DIY Media Buying
For businesses with smaller budgets or campaigns, DIY media buying may be an option. Many advertising platforms like Google Ads and Facebook Ads provide user-friendly self-service interfaces. With some learning, smaller businesses can set up and manage campaigns themselves. This gives maximum control but requires dedicating internal resources to running campaigns. Larger or more complex media buying is hard to scale and optimise in a DIY approach.
Working with Freelancers
Engaging an independent media buyer as a freelancer can provide expertise without the overhead of an agency. Freelancers charge per project rather than retainer fees. This can work well for specific campaign needs versus ongoing work. Be sure to vet freelancers carefully based on proven experience, reviews from past clients, examples of results delivered, and clear agreements. Larger businesses may engage a team of freelancers to replicate some agency capabilities. But overall management remains an internal workload.
When Is the Right Time to Hire a Media Agency?
There are several situations when hiring an external media buying agency can benefit small and medium businesses in the UK:
When Media Buying Is Too Complex Internally
Media buying has become increasingly sophisticated in the digital age. There are numerous platforms, data sources, technologies and tactics that require specialised expertise. For small teams without dedicated marketing staff, it can be extremely challenging to manage effective media buying in-house. An experienced media agency has the knowledge and resources to handle complex media campaigns that deliver results.
To Gain Expertise in New Channels or Tactics
The marketing landscape evolves rapidly. New social media platforms emerge, technologies like automation and AI advance, and innovations in areas like mobile and video advertising present new possibilities. Rather than attempting to stay on top of every new opportunity, partnering with a media agency provides access to expertise in the latest high-potential channels and tactics. Agencies dedicate significant time and effort to understanding the newest developments in digital marketing.
When Current Efforts Aren't Effective
If your current media buying activities don't appear to be delivering sufficient return on investment, our team may be able to improve performance. Bringing in an outside perspective can reveal shortcomings in targeting, bidding, creative, landing pages and more. Our agency has experience optimising campaigns across many different businesses, giving them insights into what works and what doesn't. A fresh look at your media mix focused on hard results can get your marketing back on track.