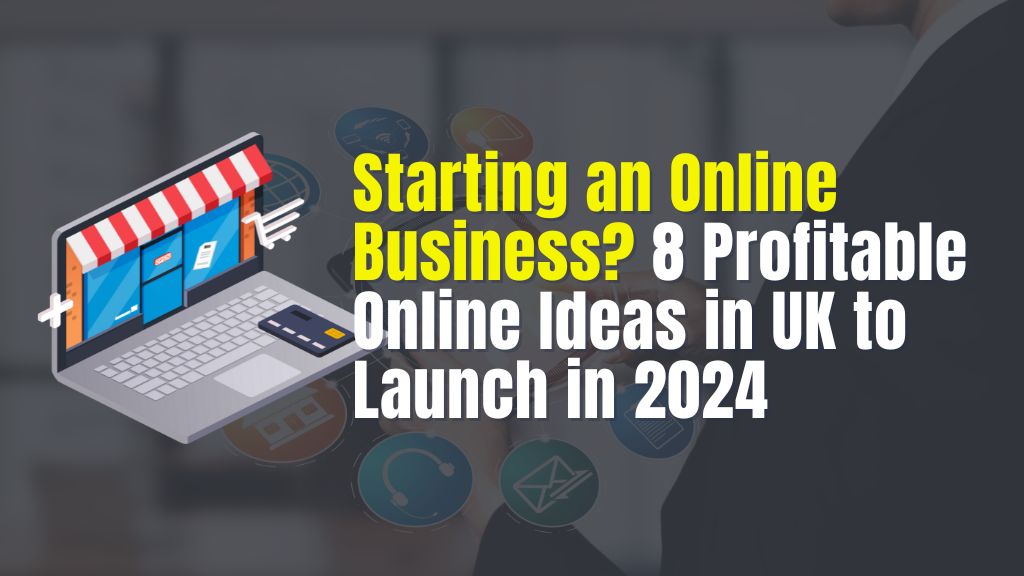 The Covid-19 pandemic has led to a dramatic rise in online businesses in the UK. According to the Office for National Statistics, the total number of active enterprises in the UK increased by 25% in 2020, with over 400,000 new businesses registered compared to the previous year.
With more people working and shopping online, it's an ideal time to start an online business in the UK. The low cost and convenience of setting up an online business means that just about anyone can turn their passion, knowledge, or skills into an income source. You don't need office space, inventory, staff or major funding to get started. All you really need is a laptop, a good internet connection and a creative idea.
Low Cost Online Businesses Ideas in UK
Starting an online business with low startup costs is an attractive option for many people looking to generate income on the side or test out being an entrepreneur. The low barriers to entry make it possible to get up and running quickly without a major investment. Here are some of the most popular low-cost online business ideas to consider in the UK:
Selling on Etsy and eBay
Turn your hobby or craft skills into income by selling homemade or handcrafted products on sites like Etsy and eBay. These platforms make it easy to set up a digital storefront and start selling to a large audience right away. You can start off small by making items out of raw materials you already have at home. As your shop grows, you can reinvest the profits into purchasing more inventory.
Blogging and Vlogging
Launching a blog or YouTube channel can be done at virtually no cost. All you need is a laptop, camera, and internet connection. Monetise your site through advertising networks like Google AdSense or affiliate marketing. As you build an audience, you can also sell ad space directly to relevant businesses. Blogging is great for sharing your knowledge or opinions, while vlogging focuses on video content.
Freelance Services
Offer up skills like writing, graphic design, web development, virtual assistance, and more on freelance platforms. Sites like Fiverr, Upwork, and PeoplePerHour connect independent workers with clients. Freelancing provides flexibility to work from home while setting your own rates and hours. It can be done as a side business or full-time gig.
The low startup costs and overhead make these online business ideas accessible even with a limited budget. Begin testing the waters before fully diving in to see if you enjoy running an online business.
Online Coaching/Consulting
Online coaching and consulting can be a great low-cost online business idea for those with expertise to share. With video calling and messaging apps, it's easier than ever to coach and consult online. Here are some popular online coaching/consulting niches to consider in the UK:
Life Coaching
Life coaching helps clients set and achieve personal or professional goals. As a life coach, you'd conduct video or phone sessions to provide support, encouragement, and accountability. Many life coaches in the UK focus on areas like career changes, relationships, stress management, lifestyle design, and mindfulness. No specific degree is required, but relevant certification demonstrates your knowledge.
Health/Fitness Coaching
If you're a fitness expert, you can offer your coaching services online. As an online health or fitness coach, you may provide customised workout and nutrition plans, along with ongoing support and motivation. Useful certifications include personal training, nutrition, and specialised programs like yoga and Pilates. You can coach clients through apps like Zoom or Skype using at-home equipment.
Business Consulting
Online business consulting allows you to help other entrepreneurs succeed. You can provide consulting in areas like marketing, finance, HR, leadership, and more. While formal education isn't required, real-world business experience helps demonstrate your expertise. Many consultants offer packages like small business start-up consulting, digital marketing audits, business growth strategy sessions, and beyond.
Information Products
Selling digital information products like ebooks, online courses, and membership sites is one of the most popular online business ideas in the UK. The low overhead and passive income potential make info products very appealing for aspiring entrepreneurs and solopreneurs.
Some of the most profitable types of information products include:
– Ebooks – These are digital books that can be sold through your own website or publishing platforms. Ebooks on topics like business, personal development, and niche hobbies tend to sell well. They are relatively easy to create and allow you to generate passive income.
– Online courses – By packaging your knowledge into a structured online course, you can sell access to videos, PDFs, audio files, and other course materials. Courses are more valuable than ebooks and can be sold at a higher price point. You can even create tiered course packages.
– Membership sites – These give paying members access to premium content, resources, tools, and a community. The recurring monthly fee provides stable passive income. You could offer training programs, coaching, forums, and more within a membership site.
The key benefits of information products include leveraging your expertise, earning without trading time for money, building authority, and expanding your audience. By choosing a niche you're knowledgeable in, creating high-quality content, and marketing well, information products can be very lucrative online businesses to start in the UK.
Dropshipping
Dropshipping is a popular online business model that involves selling products without having to handle inventory. With dropshipping, you find a supplier, list their products for sale on your online store, and forward customer orders to the supplier for fulfilment.
The supplier handles storing the inventory, picking, packing and shipping the orders directly to your customers. You simply focus on marketing and customer acquisition. This allows you to start an ecommerce store with minimal upfront investment.
Product Sourcing Tips
When getting started with dropshipping, thoroughly research suppliers and ensure they are reliable. Look for suppliers that offer fast shipping times, quality packaging, and good support. Some top suppliers include AliExpress, Oberlo, Spocket, Salehoo and WorldWideBrands.
Carefully vet the quality of products before listing them in your store. Order samples to inspect them firsthand. Avoid cheap, low quality products that could damage your brand reputation.
Best Dropshipping Niches
Some profitable dropshipping niches include:
– Home & Garden – This includes home decor, furniture, garden accessories, and more. Having a niche focus helps differentiate your shop.
– Toys & Hobbies – Parents seek specialty toys, educational toys, outdoor play equipment and more. Focus your store on a specific segment.
– Clothing & Accessories – Trendy fashions and statement pieces allow for good profit margins. Consider a boutique with boho or streetwear aesthetics.
– Pet Supplies – People love spoiling their pets. Offer unique pet toys, niche grooming products, specialised food and more.
The key is to target a specific audience instead of selling a wide array of generic products. Then market directly to that audience. With the right niche and marketing, dropshipping can be a lucrative online business model.
Affiliate Marketing
Affiliate marketing is a great online business model that allows you to earn commissions by promoting other companies' products or services. As an affiliate, you join affiliate programs, share links to products or services, and earn a commission when someone makes a purchase through your link.
Some of the top affiliate programs in the UK include:
– Amazon Associates – One of the largest affiliate programs. Promote millions of products and earn up to 10% commission.
– Rakuten – Promote over 2000 brands like Nike, Groupon, and Etsy and earn commission up to 15%.
– CJ Affiliate – Work with leading brands in categories like tech, home & garden, fashion, and more. Commissions vary by merchant.
– Awin – An affiliate network with over 13,000 merchants including big names like Apple, Samsung, Nespresso, and Booking.com.
– eBay Partner Network – Earn commission promoting eBay products. Commission rates up to 70%.
To get started with affiliate marketing:
– Find affiliate programs and products relevant to your audience. Promote things you genuinely like and use.
– Create content like reviews, tutorials, and 'best of' articles that naturally mention or recommend products. Disclose your affiliate relationship.
– Promote affiliate links primarily through a website, email list, or social media. Don't spam links.
– Track your links and traffic sources to see which ones convert best. Continually test new affiliate products and improve your promotions.
Affiliate marketing works well in combination with other online business models like blogging, social media, and email marketing. With high enough traffic, it can become a significant income stream.
Freelancing
Freelancing is a great way to start an online business with little upfront investment. The internet has created a global marketplace for freelancers offering skills like web design, copywriting, graphic design and virtual assisting.
To start freelancing, first decide which skills you have that companies would pay for. If you're a strong writer, look into copywriting. If you're creative, provide graphic design services. Offer web development services if you can build websites. Virtual assisting is great for administrative tasks like calendar management and data entry.
Next, create a profile on freelancing platforms like Upwork, Fiverr and PeoplePerHour to connect with clients. Build a portfolio website showcasing your work. Reach out to businesses directly to pitch your services. Offer discounted rates initially as you build experience.
Freelancing allows you to work flexibly from home while earning income. Once you establish yourself, you can raise your rates and take on more clients. Consider specialising in a niche like web design for restaurants or copywriting for tech startups. Focus on providing excellent service and building long-term relationships.
Freelancing lets you monetise your skills as you choose when, where and how much to work. It's an accessible online business option with low start-up costs.
SaaS Business
A software-as-a-service (SaaS) business can be an excellent online business idea for those with technical skills. The SaaS model involves creating software or apps that are hosted in the cloud and accessed by users online through subscriptions.
Some key benefits of SaaS businesses include:
– Recurring revenue through subscriptions
– Ability to update products continuously without new downloads or installations required
– Scalability to acquire more users without additional overhead
– Low startup costs compared to traditional software
Ideas for SaaS products that can work well in the UK market include:
– Accounting or bookkeeping software for small businesses
– Scheduling or appointment software for service businesses
– Customer relationship management (CRM) tools
– HR software for payroll, time tracking, etc.
– Project management apps
– Tools for digital marketers or agencies
– Video conferencing and collaboration platforms
– Educational software and e-learning platforms
– Tools for lawyers, accountants or other professionals
The key is to identify a need or pain point in a specific industry or niche, and build user-friendly software that solves those problems. With a well-executed SaaS business, you can build up monthly recurring revenue from UK customers over time.
YouTube Channel
Launching a YouTube channel can be a great online business idea, especially if you focus on popular content categories like gaming, vlogs, or tutorials. YouTube offers multiple ways to monetise your content, so you can start earning money once you build up a loyal subscriber base.
Some tips for growing a successful YouTube channel include:
– Consistently producing high-quality, engaging content on a regular schedule
– Optimising your titles, descriptions, tags and thumbnails
– Promoting your videos on social media and collaborating with others in your niche
– Analysing your analytics to identify viewer interests and optimise accordingly
– Building your authority by responding to comments and engaging with your community
– Enabling fan funding or joining the YouTube Partner Program once you reach the monetisation thresholds
The key ingredients are providing value to your target audience and understanding that growing a channel takes time and commitment. But if you focus on improving with each video, YouTube's massive audience can help you build a sustainable business around creating content you're passionate about.
Conclusion
With the rise of the internet and ecommerce, there are more opportunities than ever to start an online business from home in the UK. This blog post covered some of the most accessible and promising online business ideas that require low startup costs.
To recap, the online business ideas mentioned include online coaching/consulting, creating information products, dropshipping, affiliate marketing, freelancing, building a SaaS business, and starting a YouTube channel. Each of these has the potential to be started as a side business or grow into a full-time endeavour.
The keys to getting started are identifying your skills, interests, and experience to determine the best business idea to pursue. Conduct thorough research into the competition and demand for your chosen niche. Start small, focus on providing value, and reinvest profits into growth.
You don't need lots of capital or previous experience to launch a successful online business. With hard work, persistence, and the right strategy, you can build a thriving online business that allows you to be your own boss and work remotely. The internet provides immense entrepreneurial possibilities if you have the motivation to turn your ideas into reality.
The time is now to get started with your own online business venture. Don't let fear hold you back. Start small, learn as you go, and expand your goals over time. Follow your passion. With the right blend of commitment and creativity, you can build an online business that provides both income and fulfilment.